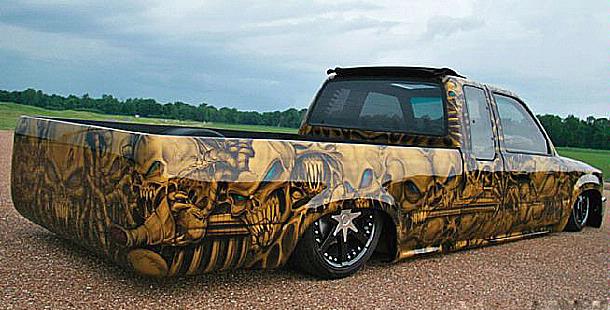 Kyle Osborn once regretted having to sell his beloved Toyota pickup. For the sake of treating his longing, he looked for another similar car and found a 1994 Toyota 4Runner production of single cabins. He then flew from his home in Missouri to Arizona, United States, to pick her up. The car was now modified all-out. Basic single cab pickup that was given additional space and extended. It looks too like from hell, complete with airbrushed skulls following horror habitat, until the bones in the interior areas.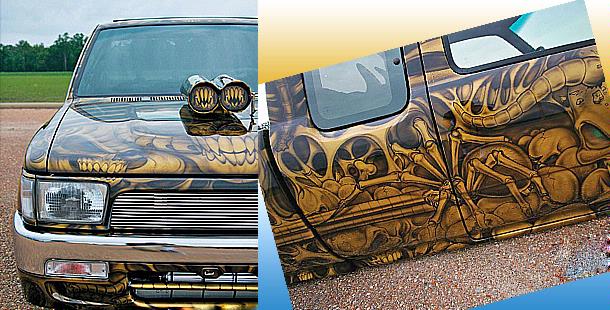 Pickup truck belonging to the mini that was made ​​into seceper bervelg possible with 18-inch wheels. He then asked the help of modifiers are also his friends and their pairing, among others, water control devices to support the body's case that can go up and down, Firestone air bags 2500 (front) and Firestone 2600 (rear), two compressors and Viair 450s . All this makes the Toyota 4Runner body berkelir-black gold could lie down to 11.4 cm.
Toyota 4Runner is a small block 350ci engine fitted with suction funnel which is also given a touch of the airbrush body similar car. Looked into, the modifier throw all the chairs up to the dash and replace it with ornaments black bones terrible. Basic materials such mixed solution so that the curves formed plastic. The result, the pickup is suitable for making a child feel frightened but fascinated.